What Are Some Waste Reduction Strategies at Home?
Whether you pay for trash removal, it's already included in your tax payment, so reducing the amount of waste your family creates is beneficial to the environment. Between the daily mail, food containers, items printed at home and waste from products you purchased, the amount can add up quickly. In fact, the Environmental Protection Agency estimates that each man, woman and child creates 4.3 lbs. of solid waste each day. Help to do your part to reduce this staggering number by employing some of these trash reduction strategies in your home.
Re-use Food Containers
It's easy to look at a food container and think it's sole purpose is to hold the food that was originally inside. However, many food containers can be repurposed. For example, jars and plastic containers can be washed with warm soap and water, set aside to dry and then packed with something else. The secondary contents don't even have to be food related. For example, old glass jars serve as great storage containers for hardware such as screws and nails. Old plastic tubs serve as great storage for make-up or toiletries kept under the bathroom sink. Along the same lines, if you happen to get a grocery store bag, use it to take out your trash, rather than purchasing plastic bags merely for the purposes of trash.
Purchase Re-Usable Items
It can be so much easier to simply eat dinner off a paper plate with some plastic silverware that you simply toss into the rubbish bin. However, when it comes to garbage removal, you'll find that all of those extra disposable products you use really add up. Instead, save your money on disposable products and purchase items that can be reused over and over. Ceramic plates, metal utensils, glassware are all favorable to use over disposable ware.
Buy in Bulk
When you purchase from the big box stores, you not only save money by purchasing items en masse, but those items often have less packing material. This reduces the waste you are generating and overall garbage removal from your home.
Use Non-Toxic Cleaning Substances
Toxic cleaning substances have ingredients that are tough to breakdown and hazardous to the environment. Additionally, usually toxic cleaning substances only have certain days when it is collected from home or businesses, making it inconvenient to hold onto until collected. Instead use household cleaners that are made of natural ingredients that are not toxic. These cleaners can be disposed in sinks and drains and breakdown easily reducing the waste your family is creating.
Key Takeaways:
Re-use food containers for other food and non-food items. This reduces your overall trash removal.
Purchase reusable items in lieu of disposable items.
Buy items in bulk because those items usually contain less packing material than buying that item in smaller quantities.
Use non-toxic cleaning substances that do not need to follow special disposal practices.
Need Help?
If your company is in need of a trash removal service,
contact us today!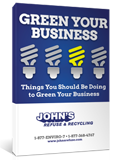 [Free eBook] Things You Should Be Doing to Green Your Business
In Johns' new ebook, we provide you with the latest and most effective ways to make your business more environmentally friendly. These practices are free of cost and will actually save you money!