How Your Business Can Save Money by Going Green
Going green isn't only good for the environment, it can be good for your business' bottom line. Trendy companies today are finding that they can add income to their company by sticking to the old adage, "Reduce, reuse, recycle." Whether you're running a restaurant or managing a factory, put green policies into effect throughout the company to save money and increase your net profits every month.
Reduce
Reducing the amount of waste your company creates is one of the easiest ways to create new income, by not spending it in the first place. Do a waste inventory every day for a week, surveying everything your business throws away. Brainstorm with your management team to come up with creative ways to avoid creating so much waste. Food service industries may incorporate new rules about scaling and measuring all foods before cooking or serving them. Offices can make big strides toward conserving paper by aiming toward a paperless office, putting their information in cloud storage instead of printing out tons of forms every week. Your business is unique, but every company can cut back on waste in some department.
Reuse
Reusing and repurposing are trendy with people now, and with good reason. Instead of throwing away perfectly usable objects, they change them into other objects for other uses, saving the materials from the landfills. Adopt this attitude in your company and you can benefit on many fronts. You'll save money by not having to buy new supplies and materials while creating good will with your customers when they hear you use green practices in your business.
Recycle
For those materials that can no longer be used in any form, you can still recycle the raw materials to keep them out of the landfill. Depending on the materials, a recycling company may even pay you for the privilege of hauling away your garbage. Green fuel companies pay good money for used fryer oil, and many restaurants enjoy a windfall check from this bonus each month. Research the type of waste you create and look for a recycling company that finds value in these materials.
Going green can mean more green in your business account, just by following the environmentalists' motto. Reduce the amount of waste you produce, reuse items in unique and creative ways and recycle materials you no longer have a use for. You'll do good for the environment as well as for your company.
Key Takeaways:
Reducing consumption is the easiest way to save money
Reusing and repurposing is extremely cost effective
Recycling lessens weight of trash for disposal, which in turn, lowers your disposal fee
Need Help?
If implementing a recycling program is something you are interested in but are having trouble getting started,
contact us today!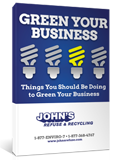 [Free Ebook] Things You Should Be Doing to Green Your Business
In Johns' new ebook, we provide you with the latest and most effective ways to make your business more environmentally friendly. These practices are free of cost and will actually save you money!