Sustainability: How Can My Family Lower its Dependence on Plastics?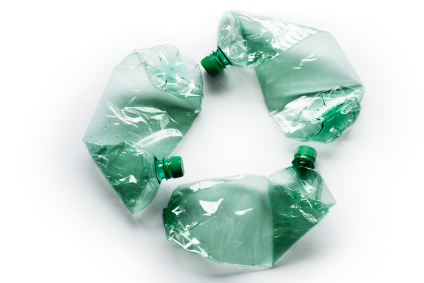 Every year, Americans throw away enough plastic cups, forks and spoons to circle the globe about 300 times. Imagine how much total plastic your family uses each year. Between plastic packaging, grocery bags and disposable kitchen items, your family may be using hundreds of pounds of plastic every year that can be replaced with reuseable versions. Whether your trash removal company includes plastic recycling or not, if your family reduces its plastic use you'll cut down on your carbon footprint every week.
Grocery Bags
Buy or make reusable tote bags or grocery bags and keep them in your car. Most families either throw out dozens of these bags every week or have a giant collection they'll never go through. Avoid this waste by keeping a collection of bags for trips to the drugstore and other shopping trips, as well as for your weekly grocery shopping.
Lunch
Buy reusable sandwich and other containers with snap-on lids. Instead of unwrapping your sandwich and throwing away the packaging, you can simply bring it home and wash it to be reused the next day. Include basic silverware instead of plastic spoons for your children's pudding cups and applesauce to save even more plastic.
Water
Bottled water is one of the largest wastes of plastic in America today. Many people dislike the flavor of their municipal water and buy bottled water, instead. This results in millions of plastic bottles being discarded each year. Opt out of this wasteful practice by buying a water filter pitcher or a filter for your faucet. Get washable water bottles for all your family members and reuse them every day.
Leftovers
At the end of the meal, many people simple cover serving dishes with plastic wrap and place their leftovers in the refrigerator, or put the food in sandwich bags for use at another meal. Go old-school with your leftovers and invest in glass dishes with matching lids. These newly popular food containers are attractive, air-tight and reusable for years.
Key Takeaways:
Make or buy reusable grocery bags
Send reusable lunch containers and silverware for meals away from home
Buy a water filter pitcher and reusable water bottles
Package leftovers in reusable glass dishes with lids
Need Help?
If you're interested in a recycling program for your home,
contact us today!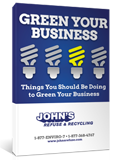 [Free eBook] Things You Should Be Doing to Green Your Business
In Johns' new ebook, we provide you with the latest and most effective ways to make your business more environmentally friendly. These practices are free of cost and will actually save you money!