How Sustainability Can Save Your Company Money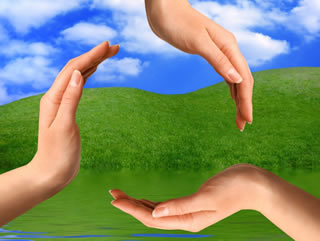 Sustainability helps the environment with renewal energy, recycling and other methods of reducing a company's carbon footprint. Being greener or environmentally friendly also helps a company to save money. By cutting costs on utility bills and trash removal, a company has fewer expenses so profits are bigger. There are a few methods staff and management of a company can utilize to reduce the overall environmental waste.
Sustainable Methods
1. Everyone should bring their own mug, cup or water bottle instead of using disposable foam or plastic cups for water, coffee or tea. The company then substantially saves money on buying disposable products. This also helps to reduce the amount of daily trash. With less trash, a company can reduce the number of times it uses trash pickup.
2. The company should also buy energy-saving light bulbs. Although more expensive than regular bulbs, energy efficient bulbs last a lot longer, thereby reducing the overall cost for lighting a work space. There are also automatic dimmers that turn down the lights when there hasn't been any movement in a room for a specific amount of time. This cuts down on wasted energy and saves money.
3. When replacing old office equipment or a microwave, refrigerator or coffee maker in the break room, buy only energy efficient products. These have the Energy Star rating. Energy Star products cost less money to run.
4. Recycling is an important part of sustainability. Depending on the type of industry a company is in, it can recycle or reuse its environmental waste. In some cases a company can even profit by selling its usable wastes to other companies. This is especially true for construction, demolition or salvage companies. Another option is to hire a recycling company to dispose of the wastes.
5. Heating an office is a big expense in the winter. One way to save money is to ask employees to wear sweaters and then turn down the thermostat a few degrees. This technique saves the company a lot of money in heating costs.
Key Takeaways:
Use ceramic or glass mugs or cups instead of disposable foam or plastic cups
Buy energy-efficient light bulbs
Replace old office equipment and appliances with new Energy Star products
Recycle, reuse or repurpose all environmental wastes when possible
Need Help?
If your company is interested in becoming more sustainable, contact us today!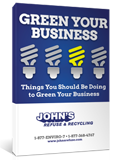 [Free eBook] Things You Should Be Doing to Green Your Business
In Johns' new ebook, we provide you with the latest and most effective ways to make your business more environmentally friendly. These practices are free of cost and will actually save you money!