How Do I Dispose of Bulk Trash Items?
These days, recycling is the watch word of waste disposal. Most households separate their trash. This includes placing it in separate trash cans depending on whether the waste is plastic, glass, paper or organic.
Many households, however, face a challenge when it comes to getting rid of larger items that do not fit in your garbage bin. These include pieces of furniture such as tables and chairs. Other items are refrigerators, television sets and various household appliances. When disposed of, these items are hazardous environmental waste. It is important for people to dispose of them in a safe manner. Nowadays, people can take advantage of a number of services depending on where they live. By having a look at what is available in your area, you will be able to safely dispose of your bulky items and avoid incurring large fines.
The Local Authorities
Most neighborhoods and communities have local authorities you can turn to. If you want to find out about the regulations that govern your area, make sure to give them a phone call. You can also find out more information about the disposal of bulky items.
Trash Removal Services
You can usually find trash removal and trash pickup services that will help disposing large items. If at all possible, see if there are any offered by a local recycling company. Such organizations will be experts when it comes to getting rid of potential environmental hazards.
Donation
Sometimes, this is the better option. If your bulky items are still working or in good condition, donating them to a charity is often the best thing to do. Some people may choose to give their bulky items to others who are in need of them. This is usually a friend or family member who has just moved into a new apartment, and needs a few items of furniture.
Key Takeaways:
Contact local authorities for regulations regarding your bulk waste
Furniture can be donated to a recycling company
Electronic items must be disposed of properly
Need Help?
If you're interested in disposing of bulk waste but are having trouble getting started, contact us today!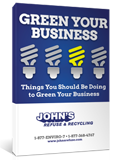 [Free eBook] Things You Should Be Doing to Green Your Business
In Johns' new ebook, we provide you with the latest and most effective ways to make your business more environmentally friendly. These practices are free of cost and will actually save you money!