Sustainability: Reduce & Reuse to start Saving Your Company Money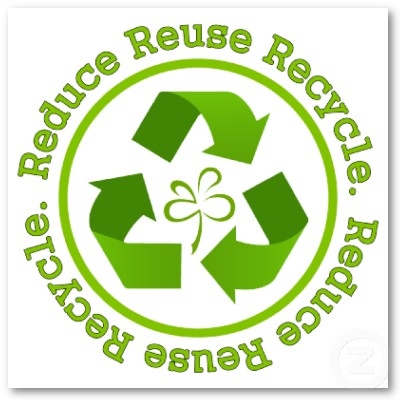 The environmental and financial benefits of recycling business waste are widely known. Reducing and reusing are just as effective at reducing overheads and carbon footprint. Simple changes can have a dramatically positive effect, stating today.
Reducing involves both using less and creating less. Implement policies that use less. Obtain staff commitment by asking for suggestions, or task each department with identifying ways they can reduce waste.
Changes You Can Make Today
double-sided printing
refilling toner cartridges
turning off lights and equipment when not in use
stop supplying plastic cups and mugs for staff
Changes You Can Begin to Make (these take more time)
reducing the packaging on your own product
reviewing stock control and making the procurement process more effective
checking with suppliers to see if packaging can be reduced
reviewing production processes to find where fewer supplies, energy or equipment is needed
working from home
Using lower energy equipment
Choosing more efficient company cars with lower emissions
Reusing what was once considered waste is both personally and economically satisfying. Again, start with small changes that bring immediate results.
Immediate Strategies for Reuse
use scrap paper as note-paper
use washable mugs and cups for staff
shred waste paper, envelopes and other suitable paper to use as packaging
encourage a culture where staff think whether something can be reused before it is thrown away
Longer term changes can include:
using grey-water for toilets
give unwanted or obsolete equipment to charities
Reusable Waste
Contact your Chamber of Commerce to see if there is a forum where businesses can sell or exchange useable waste, or if one can be set up. This exists in California as the California Materials Exchange (CalMAX)
Reducing and reusing will save trash removal costs, and also show that your company is one that cares about reducing environmental waste and landfill. Taking advantage of government incentive to use renewable energy systems can also cut costs and leave cleaner waste.
Reducing and reusing can be as simple as turning a piece of paper over, but with benefits that reach forward for generations.
Key Takeaways:
Reducing involves both using and creating less waste
Reusing cuts down on costs for your company
Contact your local chamber of commerce to see if there is a forum where businesses can sell or exhange useable waste.
Need Help?
If your company is interested in implementing recycling programs that can save money, contact us today.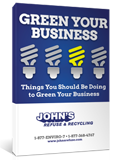 [Free eBook] Things You Should Be Doing to Green Your Business
In Johns' new ebook, we provide you with the latest and most effective ways to make your business more environmentally friendly. These practices are free of cost and will actually save you money!