Tips & Tricks for Disposing or Recycling of Metal Waste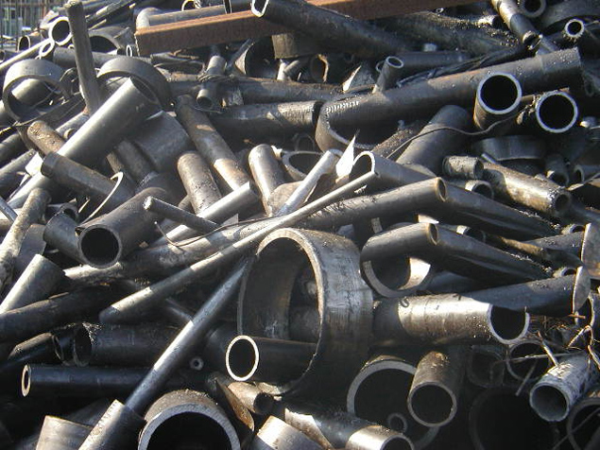 If you operate a business that deals with metal, then you know you simply can't toss it in the trash and send it off the landfill.
Not only do most states have laws against dumping metal because of how it can contaminate the soil, but in today's day and age, a recycling company or trash removal service may even pay you for your waste.
Why? Because as natural resources are depleted, it's much easier to recycle metal, then to have to find the resources to create it from scratch. Here is a look at tips and tricks associated with disposing or recycling metal.
Wear Protection
When you're dealing with metal, you're most likely dealing with scrap pieces that have sharp edges or are jagged. Some metal might be corrosive or even rusty. To protect yourself, always wear work gloves and eye protection while working with scrap metal. Metal cutters might also come in handy as you break down larger pieces into something more manageable.
Separate the Metal
Most places will want you to separate the metal as much as possible. Start a pile for copper, steel, iron, tin and other metal materials by name. The only type of metal that won't be accepted is metal that has harmful chemicals on the outside. That type of metal is an environmental waste risk and must be disposed of with other hazardous materials. Contact your Department of Public Works for more information.
Store the Metal
If possible, store the metal in a warehouse away from the elements. This makes it easier when it is time to recycle. For instance, the last thing you want is a giant snow storm to be sitting on top of your scrap metal pile. If you are only storing the metal for a short amount of time, you really don't have to worry about it breaking down if it is lying on the ground.
Contact Different Recycling Companies
Remember that the scrap metal you have is most likely an asset. Just like any commodity has a value and a market price, so does the metal. Contact several companies that pay you to recycle the metal. They'll even most likely drive to you and get the scrap. Then they'll weigh it and cut you a check. See which company is offering you the best price for what you have to sell.
Key Takeaways:
Wear protection when working with scrap metal. It might be sharp or jagged.
Separate the metal. This makes it easier during the garbage pickup process.
Store the metal in a warehouse, if possible. This makes it easier for trash pickup.
Contact different trash removal companies and determine who will give you the best price for your metal.
Need Help?
If you have questions about disposing or recycling metal waste, contact us today!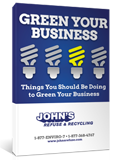 [Free eBook] Things You Should Be Doing to Green Your Business
In Johns' new ebook, we provide you with the latest and most effective ways to make your business more environmentally friendly. These practices are free of cost and will actually save you money!