Recycling in Connecticut, Hanukkah Decor Made from Reused Materials
As tempting as it is to just buy the decorations you need to celebrate Hanukkah, there's something beautiful about decorative items you created on your own or with your family. In fact, this can be a tradition in itself – creating Hanukkah decor with your loved ones is definitely something that creates beautiful memories that last a lifetime.
At the same time, you can help save the environment by using recycled materials for your decor. Recycling in Connecticut is really starting to take off, in part because there are strict recycling laws to follow in Connecticut. You can be part of the efforts to save the environment by using items headed for the trash to decorate your home. Recycling isn't difficult. All it takes is a bit of creativity.
Old toys, New Decor
You can use old paper cut into strips and transform them into dreidels. The usual dreidels are made of wood, but these paper tops are a lot more colorful. They are made of paper strips wound around a toothpick, you can shape them to the silhouette you like. You'll need toothpicks, some thin strips of paper (quilling paper works well since it's already cut into long, thin strips), and glue. After making these paper tops you can entertain your children with them for hours on end while you prepare the family meal.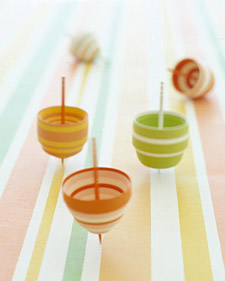 Photo: marthastewart.com
Another DIY project to consider is the use of old alphabet blocks to create a unique menorah. It takes a bit of time and work to create enough space in each block to hold a candle, but it will look extremely beautiful and homey when you're done.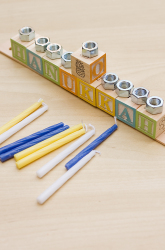 photo: education.com
Glass Jars
An alternative menorah to celebrate festival of lights is to make use of mason jars. Modern decorators often use candle votives as unique menorah alternatives. However, those offered in stores are often too expensive. Use shot glasses or mason jars you have around the house instead.
photo: auntpeaches.com
You can also use old jars as snow globes to add a decorative touch to your dining table or around the house. Just make sure that you clean the jars properly before using them for decorative purposes.
photo: busyinbrooklyn.com
Key Takeaways:
Recycling in Connecticut is a must.
Recycled materials can be used to create new things, like decorative ornaments for Hanukkah.
Glass jars, old toys, and even shot glasses can find new life as decor around the house.
Proper cleaning is required before using recycled items for creative purposes.
Need Help?
Are you interested in recycling in Connecticut, contact us today!
{{cta('efdb114d-b67e-445f-bcbc-ff59d2d82f20')}}