How Your Company Can Cut Costs by Recycling
No matter how you look at it, trash is expensive. Not only do you have to pay for garbage removal, but any item that was thrown away that could be reused is lost; this means you'll have to spend more money to replace it. Instead of throwing "cash in the trash" implement recycling programs in your office to save your company money. Once that money has been saved, it can be re-directed to some other department and used more wisely. Here are some tips on how to cut costs at your company by recycling.
Perform a Waste Assessment
Instruct each person or department to perform a waste assessment on an average day. Determine what products can be re-purposed. You would be surprised how everything from paper to cardboard to packing material can find a use elsewhere within in your business. Every item that can be repurposed is one more item that you don't have to purchase. The less you spend, the more you make. Once the items are identified, create a master list and email it to your employees informing of the items they are expected to recycle. Additionally, give them ways they can recycle those items. For example, old memos can serve as scrap paper for notes.
Compost Food Waste
This is advantageous whether you are a food service company or just a business that has a kitchen that people share during break time. By composting food, you're reducing the amount trash removal your company will need to pay for each week. Just a pound or two per person can add up to tons each year.
Participate in Recycling Programs
Many cities and states offer incentives for companies to participate in recycling programs. Items such as batteries, ink cartridges and electronics must be disposed of in the proper manner. In order to incentivize companies, some municipalities offer tax benefits or credits to companies participating in these programs. Determine what items are eligible for recycling programs in your business. At the end of the year, that tax credit can be placed right back into your business to help it grow.
Key Takeaways
Perform a waste assessment and determine what items that are used on a daily basis can be recycled. Repurposed items save you money.
Compost food waste and reduce trash removal costs.
Need Help?
If your company is in need of a trash removal service,
contact us today!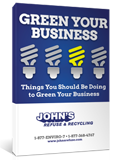 [Free eBook] Things You Should Be Doing to Green Your Business
In Johns' new ebook, we provide you with the latest and most effective ways to make your business more environmentally friendly. These practices are free of cost and will actually save you money!