How Far in Advance Should I Order a Container?
Trash collection is a necessary service whether you own your business or simply need garbage removed from your curbside in front of your home. After receiving trash containers from a private collection company or the public works department of your city, you might realize that you in fact need more receptacles. Obtaining more containers is usually pretty simple. The questions is, how long will it take to get one?
Contact the Collection Company or Department of Public Works
Contact the company or city department that gives out the trash receptacles for your home or business. Inquire about the process of obtaining another container and ask how long it will take. Some companies will simply drop off the receptacle the next time they pick-up trash, while other places, such as cities and towns, might ask you to come pick it up. They should be able to give you insight into the length of the process.
Use 311
Many cities and towns place information on their 311 lines. After dialing 311, use the sub-menus to navigate to the public works department. They may have a pre-recorded message as to how you obtain a new container, or you might be put on the line with an actual employee of the department.
Visit Municipal Websites
Some cities and towns allow you to order trash receptacles on their official website. Simply enter your name, address and the type of container you need and it will be delivered to your home. This is also a great place to find additional information about trash collection such as recycling policies and holiday trash collection schedules.
Pay the Fee
Unfortunately, there are usually extra fees associated with asking for extra containers. You'll have to pay the required fee before obtaining the receptacle. However, if you are a business, keep your receipt; it should be tax deductible as an operating expense on your upcoming tax return.
Key Takeaways
Contact the trash collector, request a receptacle and ask for a timeline as to the delivery of that container.
Use 311 to contact the public works department in your town.
Visit municipal websites for trash container ordering information.
Pay any required fees to obtain the receptacle.
It's better to have too many containers than too few! And if you ever find that you're not using one, you can return it to the city or private trash collection company.
Need Help?
If you need help ordering a trash container, contact us today!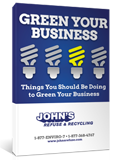 [Free eBook] Things You Should Be Doing to Green Your Business
In Johns' new ebook, we provide you with the latest and most effective ways to make your business more environmentally friendly. These practices are free of cost and will actually save you money!