Finding the Right Trash Removal Service for Your Company
Most cities have a variety of trash removal services to choose from. Before finding the right one for your company, you need to first determine the amount and type of trash you will have. A commercial trash removal company can come in handy if you continuously find yourself exceeding the weekly trash limit provided by residential services.
A commercial trash removal company will provide you with a larger dumpster or trash bin to dispose of your trash. You will simply need to call in when you want the trash removed. However, not all trash removal services will meet your expectations, so it is therefore important to know the tips and tricks of finding the right one that will:
Customer Service
From the word go, a trash removal company should offer you excellent customer service. It should be willing to answer all your questions without unnecessarily putting you on hold. If you are uncomfortable with a company's customer service, you will probably be disappointed by its trash removal services; therefore, eliminate the company from your list.
Price Structure
Trash removal services are charged differently; some companies charge by load size, while others charge by the trip. Find out if the trash service has a maximum trash weight that they handle especially if you intend to dispose of a lot of heavy items. This is because some companies will not remove trash that is beyond a certain weight.
Flexibility
Only choose a removal service that is willing to work with your schedule and not their own. Their pick-up timetable or program should be flexible enough to fit into your schedule.
License and Insurance
The right permits and insurance are a good way to tell a reputable company from a shady one. Make sure that the company you choose is licensed and insured to carry out its trash removal service.
Types of Trash
Most trash removal services will dispose of any type of trash, while others have restrictions on hazardous materials such as paints and solvents. If you will have any such items, ensure that your chosen removal service can dispose of them. Also, if you have a lot of recycled waste, choose a company that offers recycling as part of its removal service.
Key Takeaways:
Choose a removal service that has great customer service.
Ensure you select a favorable price structure.
Only go for flexible removal services.
Trash removal licensing and insurance is a must.
Choose a company that can effectively dispose of your trash.
Need Help?
If you're interested in setting up a disposal program at your business, be sure to
contact us today.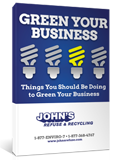 [Free eBook] Things You Should Be Doing to Green Your Business
In Johns' new ebook, we provide you with the latest and most effective ways to make your business more environmentally friendly. These practices are free of cost and will actually save you money!