5 Recycling and Waste Management Infographics You Need to See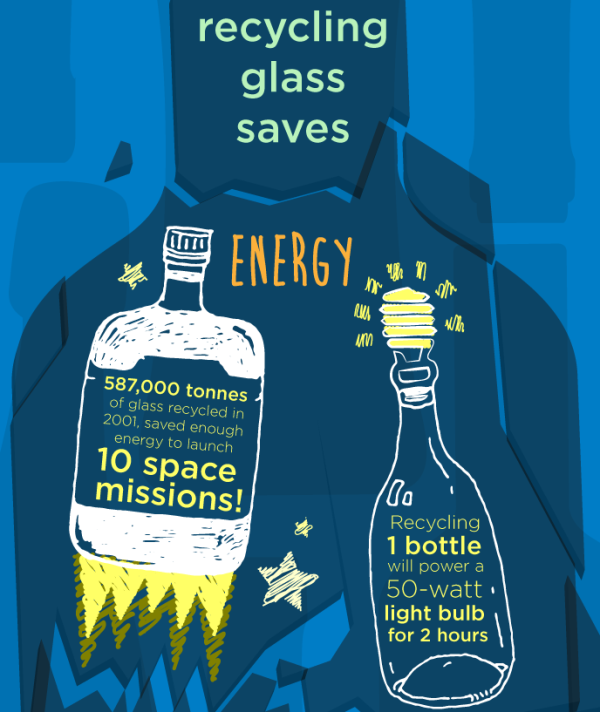 Infographics are a fun and creative way to share information. These graphics are chock full of useful statistics that are arranged in an easy-to-read format. The best infographics often become viral and get posted on Facebook, Twitter and on personal blogs.
While they are used in nearly every imaginable industry, infographics are especially useful for those interested in recycling, waste management and eco-friendly practices. It makes it much easier to share the important (and often shocking) facts about these topics.
Next time you are looking for something to post that will inspire discussion on your blog or social media account, consider one of these five recycling and waste management infographics.
Glass Recycling Infographic
Originally created by Patteson's Glass, and posted to Tumblr, this amazing Infographic shares facts about glass recycling. Recycling glass is something that often takes a backseat to plastic and aluminum recycling and it shouldn't.
Small Changes Add Up Infographic
This infographic is created by the EPA (Environmental Protection Agency). It emphasizes how big of a difference even the smallest changes can make. This is a must-share infographic that can encourage your friends and family to do their part in reducing waste.
Trash – How Long Does it Last
This infographic is ideal for helping people think about the impact of what they throw away. Also published by the EPA, it shares information about how long items you don't recycle will remain in a landfill. This could be the information that it takes to turn someone from a trasher to a recycler.
Wasted
While we still have a long way to go with our recycling habits, things have been changing for the better over the past few years, mainly because it is easier than ever before to recycle. This infographic posted on Visual Loop explains the improvements we have made but also emphasizes how far we still have to go.
Importance of Plastic Recycling
Bennu is a social media company that develops social responsibility solutions. They created this infographic that explains how important it is to recycle plastic. After all, plastic is one of the most thrown-away items and one of the easiest to recycle.
Key Takeaways:
As you can see, there are tons of great infographics out there on the subject of recycling and waste management. Spend some time looking through Pinterest or Google Images and you will find more than you can handle. Keep in mind the following information about infographics:
Share infographics on social media and easily get information out to your friends and family.

Many major organizations create infographics to share statistics in a fun, interesting way

Infographics can be a great addition to your web page or blog.

Make your own infographic using a paint program and make your statistics stand out.