What is Environmental Sustainability?
Environmental sustainability is defined as creating and maintaining ideal environmental conditions and best consumer practices to sustainably provide each individual's basic needs, such as food and water.
It aims to use resources more efficiently through the use of reusable materials, effective waste removal services in the community, and recycling innovations. As a result, natural resources are preserved. It also means lesser energy consumption and environmental waste, moving toward a cleaner and greener environment.
How Do I Get More Sustainable?
Through efficient waste removal services, garbage is collected and segregated accordingly. Plastic containers and other recyclable materials can be turned into chairs, paper, and other useful things.
In this way, the demands for natural resources are decreased which prevents further cutting of trees and mining. With various recycling innovations through the initiatives of a number of recycling companies, fuel consumption and the use of raw materials in manufacturing are reduced, which also leaves a lighter carbon footprint and less green gas emissions to the environment. In addition, taking advantage of renewable and sustainable energy sources such as solar and wind energy will help lessen the use of coal and gas to produce electricity.
As a collaborative effort, the Federal government, corporations, and individuals work together for a more sustainable future with less waste and more efficient resource utilization. This collaboration has been proven to benefit all sectors of the society involved.
In the United States, Executive Order 13423 or Strengthening Federal Environmental Energy, and Transportation Management, and Executive 13514 or Federal Leadership in Environmental, Energy and Economic Performance are the directives that aim to develop, promote, and maintain sustainable programs and best practices throughout federal facilities.
Over the course of 10 years, Procter and Gamble has saved $1 billion since they began integrating sustainability efforts by reducing water and electricity usage, as well as decreasing waste and carbon dioxide emissions in all of its facilities worldwide.
Since August of 2010, Walgreens began asking customers to accept or decline a plastic bag, and customers can bring their own grocery bags. Six months later, the company had reduced plastic bag use by 45 million.
Thus, environmental sustainability is everybody's concern to develop, promote and maintain sustainable living conditions for the generations to come. In effect, it will not only provide each human being with basic needs but create a harmonious society for everyone.
Key Takeaways:
Using drinking water containers or tumblers helps save an average of 20 billion of plastic bottles a year. This also applies to the use of commuter mugs over disposable Styrofoam cups, which only end up in landfills.
Consumers can benefit from buying larger sized grocery items and save about $2000 annually. Doing so will also help reduce excessive wrappers used in the manufacture of products and lessen environmental waste.
Using alternative sources of electricity from the sun and wind can save each household from a few hundred to thousands of dollars in utility bills annually.
By implementing environmental sustainability programs in their sites, corporations and government facilities will not only obtain billions of dollars in savings, but will also help lessen the effect of global warming through greener buildings and optimized manufacturing and operational processes.
Need Help?
If you're interested in learning more about sustainability and single stream recycling,
contact us today!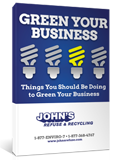 [Free Ebook] Things You Should Be Doing to Green Your Business
In Johns' new ebook, we provide you with the latest and most effective ways to make your business more environmentally friendly. These practices are free of cost and will actually save you money!