Top 10 Residential Cleaning Tips
Although many people hate cleaning and everything that comes with it, mostly everyone wants a clean home, therefore, it's necessary.
It's also important to dispose of waste responsibly and recycle in order to keep your home clean as well as practice effective ways of going "green."
Residential cleaning tips are proven methods for getting a home or apartment clean without anyone feeling overwhelmed. Below is a list of ten things to keep in mind in order to maintain a clean home.
Keeping a Clean Home
Get rid of any clutter in your home on a regular basis. It takes longer to clean if you have to keep moving things out of your way. Be sure to dispose of anything that isn't needed, or recycle any items that apply. If you accumulate a lot of waste, be sure to contact your local trash removal company to acquire about an extra haul or container rentals.
Organize all your cleaning products, tools, and equipment before you start to clean. Get everything you know you will need before you start to clean. This can include any cleaning solutions, the proper attire, and any tools you will need.
Open the windows to get air circulating as you use cleaning solutions. It's important to have proper ventilation as it provides fresh air to eliminate odors or fumes from any cleaning solutions.
Play your favorite music as you clean. With a fast tempo playing in the background, you may be more energetic as you clean. Music can also make the cleaning process a little less tedious and boring.
Start cleaning at the top and work your way down. The floor should be the last thing you clean. The idea being is that most times, any furniture or appliances high up will produce waste that will eventually fall to the floor. So save it for last.
Clean each room clockwise or counter-clockwise. It doesn't matter which method you use. The idea is to be more efficient by moving in one direction so you don't miss anything. Keep a trash bag handy so you can dispose of any waste as you go and to keep things organized.
Clean the counters, sinks and faucets in the kitchen and bathroom with your favorite liquid cleanser. Also clean the top of the stove, and doors of the major appliances in the kitchen. Spray the cleaner on all these areas and then wait for a few minutes. This allows the cleaning solution to work on the stains and dirt. Then wipe clean with paper towels or a sponge.
Use furniture polish to clean the surfaces of all hardwood furniture in the house. Also, as stated above, be sure to have proper ventilation.
Sweep the floors in the kitchen and bathroom to remove all debris. Vacuum the floors in all areas of the home.
Mop the kitchen and bathroom floors as the final step. Fill a bucket with water, a cleaning solution and your favorite mop. Wash the floors and let dry.
Get Cleaning!
Maintaining a clean and well-kept home is important for those who live there as well as any visitors. Trash can often pile up and turn off any potential visitors and also have a negative effect on anyone who lives in the home.
There are many health issues that can arise from a dirty home with a buildup of trash, which can breed bacteria. It's important to practice these cleaning tips on a regular basis, in order to keep things clean and sterile and also to keep trash where it belongs, in the pale outside!
Need Help?
If trash disposal is something you are interested in and would like to learn more, contact us today!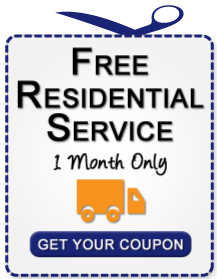 [Get Your Coupon] 1 Month of Free Residential Service
As a way to give back to our loyal residential customers and to entice the newcomers, we are offering you a break! To redeem this coupon you must pre-pay 1 year in advance and you will receive 1 Month of service for FREE.You're really paying for just 11 months of service!