Top 10 Commercial Cleaning Tips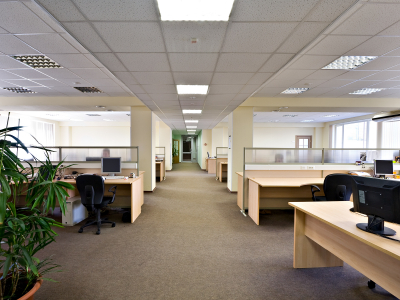 Commercial cleaning is important at it keeps your place of business clean and pesentable for customers and employees. It's important to practice reponsible disposal through recycling and regular trash disposal. Here are some commercial cleaning tips to help you make the most out of the activity.
1. Choose Environmentally Friendly Products
Commercial cleaning products such as disinfectants contain strong chemicals that may be harmful to the environment. Read their labels carefully before using and dispose of them correctly afterwards. Do not dump them outside when you are done, as this is not only bad for you and your employees, but also is against regulations for the disposal of waste.
2. Use Common Household Items
Commercial cleaners can be augmented with common household items to save on their costs. For instance, use normal chlorine bleach instead of industry grade disinfectants. Depending on the size of the windows in your business, a simple window cleaner can get the job done rather than using chemicals to do the job.
3. Operational Support
Pick a commercial cleaner known for providing better after sales support so you will not be left in the dark when something goes wrong or some materials do not work as you expect.
4. All Around Cleaners are Not Always the Best
All around commercial cleaners will give you better results in most situations. But there are cases when you would want cleaning products that specialize in a particular kind of problem like heavy stains or damage from water damage.
5. Use Energy Saving Materials and Equipments
Do not let your cleaning activity use up a lot of energy. Cleaning equipment like water compressors are known to consume a large amount of electricity so look for alternate solutions. Some chemicals used in commercial cleaning may take a lot of water to wash out that it may be better to use common household cleaning materials in their place.
6. Avoid Mixing Different Chemicals
It is not advisable to mix different cleaning materials. Ammonia and bleach, for instance, are better left on their own instead of mixing them.
7. Try New Products
Always try new cleaning products as chemists are discovering better ways to wash away household dirt every day.
8. Read Labels Carefully
Read and follow instructions printed on commercial cleaning products carefully. Remember that you are using chemicals to clean places that are occupied by your employees, you certainly don't need them getting sick or ill due to the chemicals you are using.
9. When in Doubt, Consult the Environment Protection Agency
The Environment Protection Agency keeps a listing of what's safe for use. Check the agency's list if you are in doubt of a particular cleaner before using it, just to make sure that it's safe.
10. Be Health Conscious
Cleaning should keep you, your customers, and your employees free of germs and sickness. Make sure that you reach this goal by using safe products and chemicals and washing them away afterwards.
Final Thoughts
Aside from disposing of your company trash in a responsible manner, you should also strongly consider implementing a recycling program, to provide yourself, your customers, and your employees with a way to dispose of recyclable waste responsibly in order for it to be reused.
Doing so will reduce your company's carbon footprint and while also effectively "greening" your business.
Need Help?
If commercial cleaning is something you are interested in but are having trouble getting started, contact us today.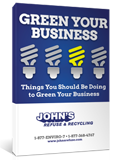 [Free eBook] Things You Should Be Doing to Green Your Business
In Johns' new ebook, we provide you with the latest and most effective ways to make your business more environmentally friendly. These practices are free of cost and will actually save you money!