Tips On Managing the Waste of a Construction Project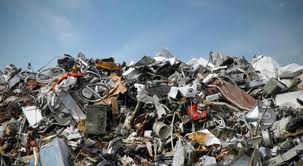 Construction projects produce a lot of waste and debris that the company needs to dispose of properly. If the waste materials are non-hazardous such as concrete, wood, drywall, bricks, plaster and piping, there are a few ways to dispose of this waste. While landfills were often the first choice for getting rid of construction waste, this is becoming less of an option. Landfills get larger. Pose health concerns and reduce property values. Many landfills will close in the future so construction companies have to look for alternative ways to manage the debris. Finding environmentally-friendly ways offers many benefits to the company and to the community. Fortunately, there are a few ways to manage environmental waste.
Reduction of Materials
Some of the debris is unused materials. One way to reduce waste and save money is to estimate how much construction materials you actually need. Only buy enough materials to get the job done, although it is better to have a little too much than not enough. Estimating may prove difficult, but it is an effective way to reduce waste.
Recycling and Reusing Materials
A recycling company can salvage the construction waste. Some materials can be separated and recycled for other construction projects. In some cases, the separation and recycling takes place at the construction site. A company can then give the materials away to non-profits that deal with building supplies. Another option is to sell the reusable materials to other companies.
Roll-Off Dumpsters for the Waste
As a construction project progresses, a company can put all the waste materials into a dumpster. The roll-off dumpster has wheels and rolls off a large truck. Once placed in its desired location the dumpster remain there until full. Waste removal companies haul the dumpster away. The dumpster is emptied into a landfill or goes to a recycling plant where the construction waste is separated and recycled.
Today there are more options for the removal and disposal of construction waste and debris. Although a landfill is an easy solution, it is not the best solution for construction companies that care about the environment and doing their part.
Key Takeaways
Buy only enough raw materials to complete the projects
Reuse and recycle any salvageable materials
Use roll-off dumpsters for waste removal
Landfills are not the best answer
Need Help?
Contact us for more information on how to manage waste disposal during a construction project!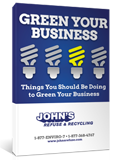 [Free eBook] Things You Should Be Doing to Green Your Business
In Johns' new ebook, we provide you with the latest and most effective ways to make your business more environmentally friendly. These practices are free of cost and will actually save you money!