How is the Cost of My Company's Trash Removal Determined?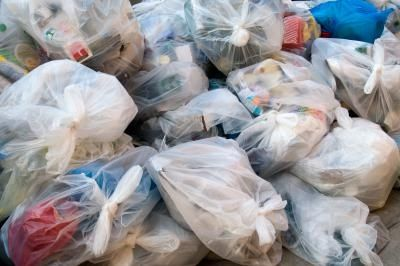 When it comes to trash removal, costs depend on two major factors – the volume of trash that will be removed and the contents of the trash. While general costs are usually determined by free market competition by competing waste removal services, there are areas where the local government puts caps on profit margins for these services. This way, consumers are not forced into unreasonable costs for a necessary corporate expense.
Cost by Volume
Many environmental waste disposal companies determine cost by the maximum total volume of commercial receptacles on the property. If you have four, six-yard dumpsters on your property and they get emptied twice a week, your billed amount will reflect 48 yards of waste removal per week. There can also be additional fees for any dumpster that is filled improperly or contains items that are not approved for receptacle disposal (large furniture, hazardous waste, etc.). By using dumpsters based on the actual volume of waste, companies can save at least 2 yards of cost per dumpster per week.
Cost by Waste Type
In addition to waste volume, the type of materials being handled will also affect your garbage removal costs. There are several classifications of waste from general household to hazardous materials. If your company works with a specific type of waste that is mandated by regulatory disposal laws, these costs will be passed to you by your garbage removal company. Expect to pay more for construction materials, aggregate, tires, asbestos, medical waste, and a variety of other industry specific materials. If your company deals with these it is essential that you have a designated dumpster for each waste type. If you do not, the highest removal rate will be charged on every dumpster you have. A recent study of waste removal at Rochester General Hospital led to the implementation of better waste separation controls that saved the hospital over $185,000.
Recycling to Save Cash
If you are looking to cut back on waster removal expenditures, it is a good idea to contact a local recycling company. Waste Auditing Consultants of Mason, OH said that clients of theirs that had over $400 in waste removal costs monthly were able to, "see their costs lowered by an average of 30 to 50 percent" by implementing recycling strategies. For businesses that have waste removal costs of as little as $500 a month this could net a $3000 savings annually.
Key Takeaways
Commercial trash receptacles come in many sizes. Using a smaller dumpster will save money.
Separating waste will result in lower rates for particular dumpsters.
Recycling can cut waste disposal costs by up to 50%.
Need Help?
If you would like us to give you some help with pricing for trash removal, contact us today!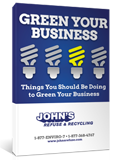 [Free eBook] Things You Should Be Doing to Green Your Business
In Johns' new ebook, we provide you with the latest and most effective ways to make your business more environmentally friendly. These practices are free of cost and will actually save you money!