How to Implement Solid Waste Reduction Successfully in the Workplace

The US generates several million tons of municipal solid waste every year. It is estimated that about one-third of this waste is generated by businesses, such as offices, restaurants and retail stores. As awareness about the environmental impact of operations grows, businesses are becoming more conscious of the office waste generated by them. Here are some tips to reduce solid waste at the workplace:
Waste Reduction Tips at the Workplace
The amount of solid waste generated can be reduced by cutting down the use of paper at the office. Paper, including cardboard and newspaper, forms the largest category of waste generated. The use of paper at the office can be reduced by promoting a paper-free environment. All office announcements should be placed at central locations, files should be shared electronically and only printed after the necessary editing has been done, and printing on both sides of paper whenever possible. Offices should be equipped with laser printers for double-sided copies, fax machines and electronic mail systems to promote a lower use of paper.
Reuse
The use of reusable goods instead of disposable ones should be encouraged at the office. Some of the most common disposable items used at the office include paper or polystyrene cups, paper towels, typewriter ribbons, pens and pencils. By purchasing disposable items, a business would be significantly reducing unnecessary trash and saving money. The business may also encourage suppliers to deliver goods in reusable containers and packaging. The office administration may also consider installing reusable air filters in the building's heating, ventilation and air conditioning system.
Businesses should prefer to buy products that have a longer life and contain less toxic materials as these could cause problems in waste disposal and pose several health risks. A favorable purchasing decision should be made for products with less toxic ink and dye, unbleached paper products and do not require batteries to operate.
Key Takeaways:
Offices contribute about one-third of the total solid waste generated by the US residents.
A paper-less environment should be promoted at the offices to reduce solid waste.
Office products which can be recycled and reused rather than being disposed off should be considered for purchase.
Businesses can control its solid waste and also save huge amounts of money by buying products which are more durable and do not contain highly toxic materials.
Need Help?
If solid waste reduction is something you are interested in but are having trouble getting started,
contact us today!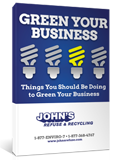 [Free eBook] Things You Should Be Doing to Green Your Business
In Johns' new ebook, we provide you with the latest and most effective ways to make your business more environmentally friendly. These practices are free of cost and will actually save you money!