Encourage Your Employees to Recycle (It'll Save Your Company Money!)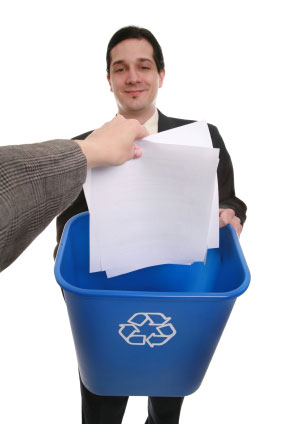 Recycling not only helps the environment but can help a business decrease is costs. By encouraging employees to recycle, a business will decrease the cost for trash disposal companies Connecticut. Garbage collectors typically charge less for picking up recycled trash than normal trash pickup. To recycle effectively, a business will need to follow a series of steps.
Develop a Plan
Saving money by encouraging employees to recycle may require developing a waste management program for your business. This is done by selecting a person to be the coordinator of the program and discussing a set of goals. This includes identifying the materials to be recycled and implementing a strategy. The last step is to get the new waste management program online.
Be Creative
Recycling in an office is easier for employees when it is convenient. This means placing containers that are used for paper near their desks. The paper that is deposited into the containers can then be collected at the end of the day. A separate bin can be placed next to a printer or copier for the toner cartridge.
Buy Recycled Products
Saving money by recycling is complete when your business begins buying recycled products. That includes copier paper, computer paper and general office paper. Other products will include packing material and even toilet paper. Other types of recycled products that can be purchased are cartridges used with printers and copiers. Office furniture that uses recycled materials can also be found.
Public Relations Benefits
Companies that advertise the use of recycled products or the use of a recycling program may gain increased business in an environmentally friendly culture. By encouraging employees to recycle, a business can see the potential of increasing its customer base.
Additional Information
Encouraging employees to recycle allows a business to decrease the size of its trash containers. This is a good way to reduce costs as the amount of trash is smaller and the pickup frequency is lower. Fees for garbage trash removal Connecticut may be reduced or even eliminated.
Key Takeaways:
Developing waste management plan
Being creative with recycling
Buying recycled products
Public relations benefits
Reducing trash collection costs
Need Help?
If implementing a recycling program is something you are interested in but are having trouble getting started, contact us today!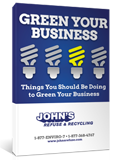 [Free eBook] Things You Should Be Doing to Green Your Business
In Johns' new ebook, we provide you with the latest and most effective ways to make your business more environmentally friendly. These practices are free of cost and will actually save you money!