How to Dispose of Large Garbage Items
Many new homeowners are unaware of how to handle disposing of their large garbage items. Some even put the large items on their curbs and are left surprised when the waste removal trucks ignore them. When dealing with larger items, contact your local trash removal company to determine the best way to dispose of them.
Identifying the large waste items will allow you to better arrange your garbage. In general, large items are the ones that need special procedures for disposal. While your couch may silently go to a recycling center or landfill, items like appliances, televisions, stereos and other devices that are made with chemicals, wires or tubes will need proper disposal.
With new regulations being passed constantly governing both the removal of mechanical waste and trash, companies that are capable of accommodating those regulations are offering an important service to businesses and homeowners. You should contact your local trash removal company to determine a course-of-action for your larger items.
Whenever you have large items on your curb, the overall appearance of your house is compromised and it becomes unsightly. It is not necessary to display the unattractive furniture to your friends for several days before it is finally taken away. Sometimes the professionals can collect the large items directly from your house, such that you will not even have to display it on your lawn. There is no need for your neighbors to find out that you once had bad taste in home furniture.
Key Takeaways
Large items call for unique disposal methods and that is why they are handled by professional removal firms.
Contact your local trash removal company to determine a course-of-action regarding disposal.
The benefit of using professional service removal for large items is that you can get rid of the large unappealing items the same day or even the following day.
Need Help?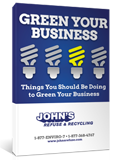 [Free eBook] Things You Should Be Doing to Green Your Business
In Johns' new ebook, we provide you with the latest and most effective ways to make your business more environmentally friendly. These practices are free of cost and will actually save you money!