How to Determine What Size Garbage Container Rentals You Need
Whether you're doing a relatively small residential project or large scale construction, odds are you will accumulate a considerable amount of trash that needs to be removed. To ensure that all waste is removed both safely and efficiently, it's important to rent an adequately sized waste container for trash removal.
In some cases, certain items can also be taken to a recycling company. Regardless of the job, following several guidelines should help you streamline the process and find the ideal container size.
10 Yard
In general, there are four basic sizes to choose from for a waste container, which go by how many cubic yards of waste they can hold. The smallest is a 10 yard container which is 12 feet long by 8 feet wide by 4 feet high. This size is best suited for smaller residential jobs such as cleaning out a basement or garage and kitchen remodeling. If you plan on having a minimal amount of environmental waste for trash pickup, this is your ideal container.
20 Yard
The next size is a 20 yard container which is 22 feet long by 8 feet wide by 4.5 feet high. This is also primarily designed for residential projects, but can handle considerably more waste. Consequently, it tends to work well if you are doing a job such as shingle removal, flooring or carpet removal. It's also ideal for cleaning out a large basement or garage.
30 Yard
This size holds 30 cubic yards of waste and is 22 feet long by 8 feet wide by 6 feet wide. In general, this size can work for new home construction, small home demolition, cleaning out a large home and small commercial projects where a business has limited waste.
40 Yard
This is usually the largest container size and is 22 feet long by 8 feet wide by 8 feet high. The only difference between this and a 30 yard container is that it's 2 feet higher.
In most cases, you will need this size for serious residential projects on large homes or for the construction of new homes. It's also ideal for your average sized commercial clean out and should be sufficient for holding high volumes of trash. If you are performing a large scale construction project or cleaning out a large commercial building, then you may have to rent multiple containers of this size.
Key Takeaways:
There are 4 basic container sizes
10 yard is limited to small residential projects
20 yard is ideal for mid-sized residential projects
30 yard can handle large residential projects and small commercial projects
40 yard is suited for home construction and large commercial projects
Need Help?
If you're interested in a container rental but are having trouble getting started,
contact us today!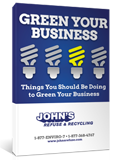 [Free eBook] Things You Should Be Doing to Green Your Business
In Johns' new ebook, we provide you with the latest and most effective ways to make your business more environmentally friendly. These practices are free of cost and will actually save you money!