How Recycling at the Construction Site Can Save Your Construction Company Big
The average waste generated for new construction is 6 lbs. per square foot. Every pound of that waste costs money to be disposed of properly. By employing some recycling practices, you can reduce the amount of waste per square foot and in turn reduce the cost to your construction company. Remember, every penny you save on your trash removal or recycling cost, is another penny of profit for the bottom line. Here's a look at how recycling is beneficial to your company.
City Compliance
Gone are the days when recycling was merely an option and not a necessity. Years ago, a contractor might think "so what if I spend a few grand more on new materials?" Now, that cost is not only tied to the extra materials he must purchase, but also to city compliance requirements. For example, many cities require that a construction site meets a minimum recycling threshold, otherwise they are charged a fee by the day or job. This can tack on tens if not hundreds of thousands of dollars to the bottom line. The moral of the story is that staying in compliance with recycling and garbage removal saves quite a lot of money.
Reusing Materials
Wood, metal, hardware and other building material are certainly expensive. Limit the amount of materials you are using by creating bins for your workers to place left-over building material that has not been used. For example, save wood ends, cut metal beams or pieces of drywall that can be repurposed to another aspect of your job or another job all together. This will keep your ordering costs down.
Involve Subcontractors
Keeping track of subcontractors can prove to be a difficult task as they do not technically report to your company in the manner other employees of yours do. Inform and educate the subcontractors about the importance of your recycling program and ask them to participate. Provide statistics for both the subcontractors and your employees regarding just exactly how much waste you are recycling. You can even offer bonuses for employees who meet or exceed the city criteria. This gives everyone on the job site incentive.
Key Takeaways:
City ordinances may dictate that you need to recycle a certain portion of your waste prior to trash removal. Make sure you are in compliance.
Repurpose or reuse materials on the job site in order to save money on product costs.
Need Help?
If your company is in need of a trash removal service,
contact us today!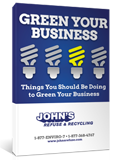 [Free eBook] Things You Should Be Doing to Green Your Business
In Johns' new ebook, we provide you with the latest and most effective ways to make your business more environmentally friendly. These practices are free of cost and will actually save you money!