Going Green With the Top Environmentally Friendly App's
More and More applications are constantly created for your smart phone, iPad, tablet, and other hand held devices. Many of these app's may be useful in some form or other; however they are not all environmentally friendly, nor do they have tools for waste management. The following paragraphs will discuss several environmentally friendly app's you can use to help manage your waste, and enhance your quality of life. If you're looking for more information about going green contact your local waste management company.
3 Environmentally Friendly App's
The Key Ingredient App
This app will allow the user to search for recipes by ingredient. This feature allows you to use up all the perishable and non perishable items in your fridge and kitchen cabinets, thus reducing the amount of food you have to throw away and saving you money in the long run. The key ingredient app is available for all Apple and Android devices, and best of all, it's FREE!
The AmpleHarvest Mobile App
This app is essential for gardeners who have a bountiful harvest, and end up with more of a crop than they need. Instead of letting your crop go to waste, check the ample harvest app for a list of food banks and pantries that give food to those in need. You can also check to see what is needed at these pantries and food banks, to insure that your surplus of produce is donated to those who have the greatest need for these items. This app will help you reduce the amount of food that would have been otherwise thrown away.
The Light Bulb Finder App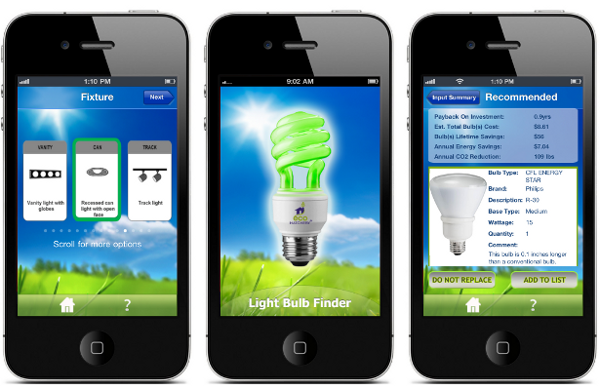 If you are looking for energy saver light bulbs, but don't know where to find them, the light bulb finder app for apple and android devices is a great place to start. This app will give you recommendations for energy saving FCL and LED light bulbs, based on price and how much money you will save, light wattage, quality, and what fixtures they fit and compatibility to make shopping easier for you.
Key Takeaways:
All environmentally friendly app's are free.
The key ingredient app allows the consumer to search for recipes by ingredient, to help reduce food waste.
The ampleharvest app helps farmers find food banks and pantries to donate their surplus of produce.
The light bulb finder app helps consumers find the best energy saving CFLs and LEDs based on financial payback, light quality, appearance, fit and compatibility.
Need Help?
Are you trying to become more environmentally friendly, contact us today for more information.
{{cta('93987b7b-998e-41a1-a8e3-ac61a3fc3b63')}}