What are the Benefits of a Rear Load Dumpster?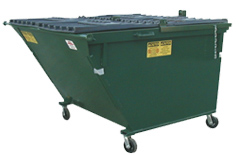 Rear-load dumpsters are one of the many styles of dumpsters John's Refuse offers for rental. They are especially helpful in areas with limited space (alleys and urban lots), and can be used for projects like renovations, restorations, or for everyday waste.
Rear-load dumpsters are a popular pick for a number of industrys disposing of commercial waste, including restaurants and retail. They are especially popular for busy downtown areas where many businesses are close together in location.
The Benefits of a Rear-Load Dumpster
Since they are wheeled, they are more maneuverable. They can be pushed into recessed areas for storage, and then pulled out for dumping on collection day. John's Refuse offers rear-load dumpsters in 2, 3, 4, 6, and 8-yard sizes. Fill out the online form or call John's Refuse for more information about rear-load dumpster rentals or for help determining which size dumpster will fit your needs!
Key Takeaways:
Rear-load dumpsters are great for limited spaces

Rear-load dumpsters are easy to meneuver thanks to their wheels

Rear-load dumpsters are available in a number of sizes to meet your specific needs
Rent a Rear-Load Dumpster:
{{cta('b288adef-b2e7-49a1-8faf-3b8234beecca')}}