How to Improve Your Business Recycling Strategies
So you've heard that 'green' is the way to go to improve your business's consumer appeal, but you're not sure how to get there. Or, maybe your company already recycles some items but you're sure there's more to do. Starting or improving an existing recycling program will make your organization 'greener,' and let you (and your customers), feel good about reducing the amount of waste sent to the landfill. Here are some great ideas to help improve your business's recycling efforts!
Resources
For some great ideas on how to improve your company's recycling efforts, check out TerraCycle®, an organization that offers recycling solutions for all kinds of products. For example, old permanent markers and ballpoint pens can be collected and sent to TerraCycle®, which will then award your business points that can be used to purchase charitable gifts or donate money to a non-profit or charity of your choice. This is an excellent way to pay it forward through your business's recycling efforts!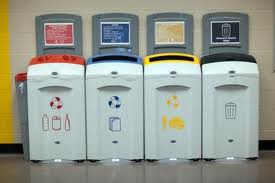 If you can't recycle things like paper, batteries, corrugated cardboard, or e-waste directly through your current waste management process, find a place that can! Use Earth911.com's Recycling Center Search to find a place near you to recycle anything from calculators, DVDs, empty aerosol cans, and compact fluorescent lights.
Make sure that your eWaste is recycled. Everything from computers to smartphones and printers can be recycled. For a list of programs nationwide, check out the EPA's searchable list of eWaste recycling and donation programs. Most wireless companies have trade-in or recycling programs for old cell phones and smartphones with some offering discounts on new equipment with trade-in of old phones/devices.
If your business uses radios, pagers, cellphones, or other battery operated equipment, recycle the batteries! Call2Recycle® helps you find drop-off locations in your area for all different kinds of batteries, and also provides information on how your company can become a collection center. Think of all the great 'green' advertising this could produce for your business!
Find a mail-in recycling program to complement your business's recycling efforts. If your business is located in a smaller town, you may not have local recycling programs for many of the products you use. Many companies offer mail-in programs, like Rebulb (CFL, fluorescent, and HID bulbs), and Sonoco Protective Solutions (expanded polystyrene packaging material like packing peanuts). Mail-in recycling programs are also often useful for less-commonly recycled items like Two Way Direct's program for two-way handheld radios.
Employee Involvment
Get employees involved. Businesses recycle much more of their waste if employees are on board with recycling initiatives. Find out what staff members are willing to do to help; someone may want to lead a recycling committee! Management will likely be behind your recycling efforts once you've explained that it will reduce waste bills, make employees feel good about the business and the environment, and allow the business to bill itself as a 'green' company!
Get organized! Place small paper recycling bins at each employee's desk, or larger ones in common areas (next to the copy/fax machine and next to traditional waste bins). If the option to recycle is readily available, staff will be much more likely to participate!
If you have a larger business, register with Office Products Recycling Associates (OPRA). They have a buyback program for many brands of ink and toner cartridges, cell phones, and other small electronics, and they offer loyalty rewards in the form of cash and gift cards for businesses that recycle large quantities.
If you have a smaller company and you don't produce enough waste to participate with OPRA, then congratulations, your business has a relatively small impact! However, you can still partner with Clover Environmental Solutions (CES) to recycle products like empty ink and toner cartridges, smart phones, PDAs, and other small electronics. They offer a buy-back program for some products and have a plastic grinding process that recycles non-functional parts and pieces into new items!
Enter your business's recycling program in the American Forest and Paper Association's Recycling Awards; past winners have included MGM Resorts International, Stanford University, and Continental Airlines. Their site also offers a how-to guide for starting an office recycling program.
Use these ideas to improve your business's recycling program one step at a time, and you'll soon be the 'greenest' company on the block!
Photo Credit: Walmart
Greening Your Business:
{{cta('f4935dd1-1477-4539-8348-ccb611c626c1')}}