Connecticut Waste Removal: Benefits of a Rear Load Dumpster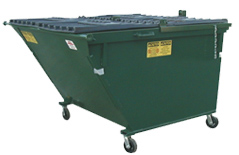 When you are considering all of your Connecticut waste removal options, you probably look at the different types of dumpsters and feel a bit confused about which one is best for you. There are front, side and rear load dumpsters. Each type of dumpsters is slightly different—even though the goal of the products is all the same. You can find information about each type, but in this post you will discover more about rear load dumpsters. Once you understand the benefits of this type of Connecticut waste removal container, you may be able to choose the type that is right for you.
Available in a Variety of Sizes
This type of dumpster is very flexible. You can often find them in sizes small enough for just a household waste disposal or large enough to handle the capacity of a larger business. Since there are a number of sizes available, you will never spend too much or wind up with a dumpster too small or large for your needs.
Innovative Design
The design of a rear load dumpster is created so that you, the user, you won't have to touch and you'll see the refuse as little as possible. With a rear load dumpster, you can drop in the bags or garbage and shut the cover, never having to deal with heavy, difficult lids. These are a great choice when you want to keep your Connecticut waste removal as hands-off as possible.
Easy to Install/Use
These dumpsters just require an open, empty space so that the delivery truck can leave it—picking it up is just as easy. If the dumpster is to be a more permanent fixture on your property, you will need to keep some space clear so that the truck can easily pick up the rear load dumpster and empty it. However, when compared to other forms of Connecticut waste removal, this is quite simple for you.
Key Takeaways:
You do not have to struggle when making a decision about your dumpster and Connecticut waste removal.
Understand that rear load dumpsters are:
Flexible and perfect for use in large and small scale situations.
Designed to be easy to use for you and your family or staff.
Simple to install and does not require maintenance.
After you see these many benefits, you can decide if a rear load dumpster is the right choice for use for your business or for a waste removal project around your house.
Need Help?
Are you interested in learning more about renting a rear load dumpster, contact us today!
{{cta('d01461be-3732-4ff1-a2b7-c7e3a101282c')}}